How it works
1st

COMPLETE THE CONFLICT ANALYSIS
Through our virtual questionnaire and the good use of artificial intelligence, we will help you to do the diagnosis of the conflict, increasing the chances of success by 80%.
2nd

CHOOSE THE METHOD TO SOLVE THE CONFLICT
Our system does it all for you! Acuerdo Justo will suggest the strategy to follow to resolve the conflict.
We will contact the other party to invite them to use our system!
3rd

WORKING ON THE DISPUTE
Meet on our platform with the other party and one of our professionals who will help you to resolve the conflict according your needs.
4th

SIGN THE AGREEMENT AND ENSURE COMPLIANCE
The platform will convert the agreement into a smart legal contract (when that is possible), this makes the agreements binding, unstoppable and automatic. Increasing the security in their execution.
ARE YOU READY?

JOIN US TO HAVE YOUR FIRST VIRTUAL ASSISTANCE
✓ We care about the people behind the conflicts.
✓ You'll be able to analyze your problem.
✓ You can request personalized advice in the management of your conflict.
✓ You could save on emotional costs, time and money.
Join free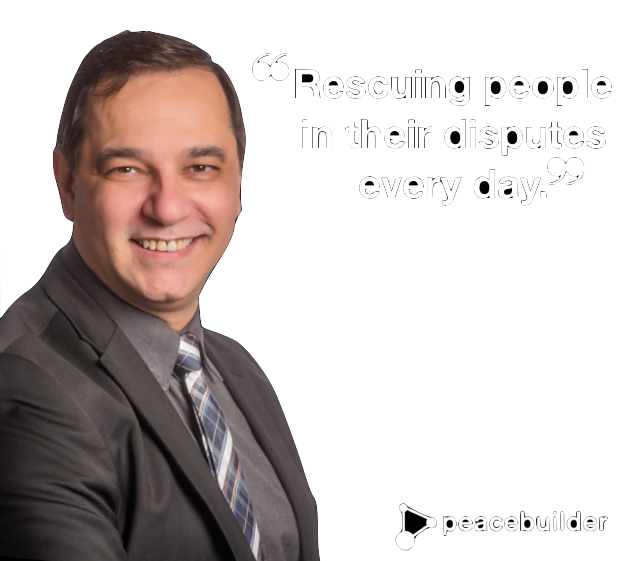 Peacebuilder is an innovative platform for online dispute resolution (ODR) that involves, streamlines and systematizes the resolution of disputes between individuals and service providers.

Efficiency and traceability increased by the use of artificial intelligence, smart contracts and blockchain.

We are developing… check out the roadmap!
___________________________

Contact us:
✓ Spain: Passatge Valeri Serra 21, Barcelona (+34) 608 968 769
✓ France: (+33) 0648855503
✓ Argentina: (+54)11 4382 8558
© Peacebuilder 2021
Contact us